Take Care of Early Season Weeds before Planting
---
Spring Burndown
I know many of you have plans in place for a spring burndown herbicide application. If not, here are a few reasons for you to get in contact with your Premier agronomist to do so. Spring burndown applications typically target winter annuals and perennial grasses that overwinter and resume growing as soon as temperatures warm in the spring. As they get going in the field they immediately begin stealing water and nutrients from the soil, and can create planting challenges. With the onset of resistant weeds like waterhemp, and standby challenges like giant ragweed, it is a best practice recommendation to add a strong residual herbicide to your preplant spring burndown application. Doing so helps keep populations down and gets ahead of your first early post application. Here are some tips for establishing clean fields that give your crop a strong start.

Scout Fields to Identify Weeds.
Identifying troublesome early-season weeds can help you plan the most effective spring burndown application.

Make Timely Spring Burndown Applications.
As mentioned, winter annual weeds start growing as soon as temperatures warm. That means by the time you may be ready to plant, those weeds may have already entered reproductive stages, making them more challenging to control. Managing weeds when they're still small will help increase the efficacy of your herbicide application. Addition of active ingredients like those in Dimetric® can increase the consistency of your control.

Follow Herbicide Label Instructions.
It won't pay to cut corners with your spring burndown applications. Consult the herbicide's label to ensure you use the correct rate, carrier type, volume, nozzles, and partner products based on your field's weed pressure and environmental conditions. Also, keep in mind that weed control is most effective when weeds are actively growing and metabolizing herbicide active ingredients. Generally, sunny, warm days with temperatures of 55 degrees or above typically lead to more successful applications.

Boost Herbicide Performance.
In 2023, we will likely face increasing weed resistance, so getting effective weed control on the first pass will be even more critical. Adding the right tank-mix partners, including effective adjuvants, can help improve herbicide coverage and weed control. But don't trust your crop protection investments to just any adjuvant. Ask for data and research to back up product claims and ensure products perform in your fields.

Adding an effective adjuvant like StrikeLock®, InterLock® or Class Act® NG® is an economical way to enhance herbicide performance and ensure you're getting the most out of the dollars you've spent. StrikeLock and InterLock adjuvants are excellent at reducing drift and improving deposition. The more droplets you can get to the plant, sticking to the leaf and spreading across the surface, the better performance you'll get from your herbicide. StrikeLock is a methylated seed oil designed specifically for oil-loving herbicides while InterLock adjuvant is an all-purpose drift and deposition aid. Class Act NG adjuvant is a top-shelf, AMS-based water conditioner that also includes nonionic surfactant and CornSorb® technology for maximum weed control.

So when the fields are fit, tackle troublesome weeds to eliminate their competitive advantage over the crops you intend to plant. Offering clean fields to plant in along with residual herbicides out of the gate will give you an effective herbicide plan for 2023. For more information about spring burndown applications and getting your crop off to a great start, contact your Premier agronomist.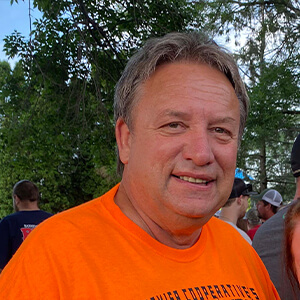 Ken Jahnke
Agronomy Sales Manager
Read More News
March is a great time to assess your alfalfa stand as the plant starts to break dormancy and green up. Here's


With spring just around the corner, your cooperative is gearing up for another one of our seasonal rushes…spring planting season. Not only will we see our total employee count peak for the year, but nearly every asset in the company will be in use. While many businesses have equipment and buildings that are in use all year long, our grain and agronomy divisions have millions of dollars invested in some assets that only get used for a few months out of the year. It is critical that these assets are fully operational and ready to go when the season starts. Our agronomy operations team has spent the winter months going through all the equipment to make sure it's in good working order, unwrapping and greasing up the new sprayers, trucks and other equipment we've purchased this year, updating technology and precision tools on existing equipment, and conducting hours of training on its use and safety.

In addition, the crop advisors and admin staff have been putting the finishing touches on crop plans and seed orders, wrapping up input financing and nutrient management plans, hiring and training new staff including college interns to help scout fields, and maybe taking a little time away to get rested for what is sure to be long days and short nights ahead. If you're still looking to finalize plans for this planting season, please don't hesitate to reach out to one of our highly trained crop advisors.

Gearing up for spring is not only about the equipment, but also the additional staff needed to provide the products and services our members rely on to help feed the world. Each year we try to fill about 100 full and part time positions at our eleven agronomy locations. These positions can last from six weeks up to eight months. Most seasonal positions involve delivering product to our members or directly to fields to keep our custom application machines running smoothly. If you or someone you know is interested in seasonal or year-round employment, please contact Shayla at our Mt Horeb office or stop by one of the agronomy locations. The hours can be flexible and available up to seven days a week. If agronomy work isn't for you, ask about openings at any of our other locations including retail associates, plant operations, truck drivers, administrative professionals and more. Premier is always looking to add quality people to our team.

Thank you for your continued support of Premier Cooperative and its staff. Have a great month and stay safe!
Cattle nutrient requirements can vary by season and stage of production. Now is a great time to evaluate your cattle mineral programs and map out a plan to maximize impact.

While minerals are a relatively small portion of the diet, they control many vital functions in cattle and impact everything from cattle reproduction to feed efficiency and overall herd health. That's why it's so important to make sure the mineral needs of your cattle are being met year-round.